We'll I've treated myself again, mainly to be used for my 'company' work when I leave my current job in September… I'll be leaving to work for myself and have a couple of projects on the back burner and a few customers already which is great! – I did this for my iMac so I thought I'd post up some photo's of me unwrapping it 🙂
I decided in the end to go for the Intel i7, 8GB RAM, 750GB HDD, 13 inch model… I also purchased the Apple Bluetooth Keyboard and Mouse too for when I purcahse the 27″ monitor for my new office 🙂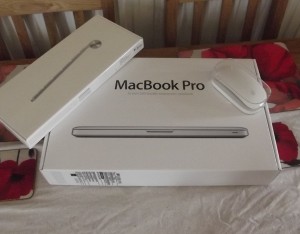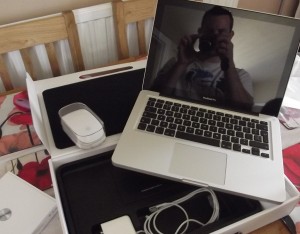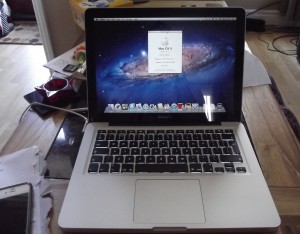 I spent the afternnon installing all my software on there of which included (if anyone is interested):-
Google Chrome – I like to keep my bookmarks and history synchronized across ALL platforms (Windows, Linux and OSX) – Plus its my browser of choice if I'm being honest!
Sequel Pro – In my opinion, the best MySQL client for MacOSX – is a great OSX replacement for the likes of SQLYog and Navicat etc.
Netbeans IDE 7.2.1 – My PHP/Java IDE of choice… I love NetBeans I also use NetBeans to handle all my Git repositories!
TextWrangler – A really good 'NotePad++' replacement for MacOSX – I generally use this for basic file editing tasks!
Xcode – For Objective-C development!
XAMPP – My Apache, MySQL, PHP development environment!
Microsoft Office 2011 for Mac – Lets face it… Its better than the likes of OpenOffice, I already had a copy so may as well use that!
uTorrent – My favourite bit-torrent client.. handy for downloading Linux distro's etc 😉
Teamviewer – I generally get a load of 'Can you help me with my PC' questions from friends and family members… I keep this handy to remote into their desktop when required!
TweetDeck – Free app from the app store, kind of cool interface to Twitter!
Dropbox – Goes without saying… I love my dropbox!
FileZilla – A great free FTP/SFTP client, although I don't really use it all that much, its real handy to have.
VLC – A great media player with support for a hell of a load of codecs, I use this as QuickTime fails to play a lot of .avi files I have.
CCleaner  – A free app from the App Store, claims to clean out your old data and generally keep things running good!
So now that I have my MacBook Pro I may actually put my iPhone data tethering to use now 🙂 – Seems as I'm already paying for completely unlimited data and tethering from Three (The one plan) 🙂